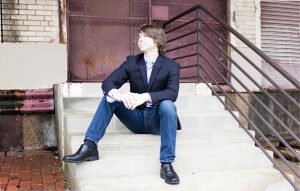 Joseph Drups is the entrepreneur and founder behind Drups Ventures. He lives in Fort Worth, Texas with his wife and two children. His expertise focuses in the areas of operations and management, acquiring and merging businesses, digital marketing, ecommerce, electrical and computer engineering, and niche manufacturing. Furthermore, Joseph is a proven CEO with 11 years of successful operations, management, and entrepreneurship experience.
Under his leadership, Drups Ventures made the Inc 5000 life of fastest growing companies two years in a row. Joseph is passionate about developing growth oriented businesses with unicorn potential. Hi runs his businesses with an Underdog Spirit and vision, mission, and values to try and change the world.
What is an Underdog Spirit?
The Underdog Spirit calls out from the day-dreaming business-philes. It's the battle cry of the managers who care enough to overcome when pressed on all sides. You can hear the whisper with the employees who fight for meaning in a gray, cold culture, that denies them easy freedoms.
The Underdog is the David who dreams into existence their great moment of achievement, and steps onto the battlefield to stare down Goliath. They pay for their success with the heart ache of passion, the sweat of hustle, and the persistent long hours that greatness requires.
We salute the Underdog and embrace the Underdog Spirit.
USAF Career
Joseph began his distinguished career in management and operations as an award-winning Air Force Officer. In the United States Air Force (USAF), he led numerous teams and programs which developed his skills as an operations executive. He won numerous awards and recognition for his leadership excellence. Early in his career, Joseph led a team to develop a rapid prototype solution to take down ultra light aircraft (ULA) that had been smuggling drugs across the Southern U.S. border. He was awarded a merit of excellence and recognized by the commander of the Air Force Research Lab (AFRL) for his time leading the ULA team. After a successful completion of his ULA project, Joseph served as the Executive Officer of the Eglin AFB Air Force Assistance campaign, during which he led a nonprofit campaign of 70 volunteers reaching out to contact 25,000 active duty Air Force employees which ended up gathering contributions of $135,000. This project exceeded the stretch goal set by the Air Force by $20K, and Joseph was recognized by the base commander for his leadership of the AFAF.
Later, Joseph oversaw a team charged with the development and testing of a $4.75M Telemetry System, and after that the Hard Target Void Sensing Fuze test program. Joseph's telemetry team of 11 engineers and specialists ended up cutting costs significantly by $3.5M and Joseph won an Air Force medal and accommodation for the program's accomplishments.
After his early successes, Joseph's career in the Air Force led him to serve as the chief liaison between Air Force divisions in the $4.5 Billion Hard Target Munition (HTM) program. After his time serving in the HTM program,  he was moved to serve as the chief operations officer for a Division of over 500 USAF employees.
Even during his time in the Air Force, Joseph repeatedly showed leadership and a tendency toward entrepreneurship. Joseph earned a repeat position on the Eglin Base Council, and served separately as the junior force representative for 25,000 Air Force Employees. Joseph used his position of leadership to found an Eglin Air Force Base think tank, The Connect Program, as well as a Mentorship Program and Immersion Program serving approximate 15,000 Junior Force members on Eglin AFB.
Joseph repeatedly showed operations, and management excellence during his time in the United States Air Force. He was recognized by the executive leadership of the USAF, and won numerous awards for his ambitious leadership.
Founding Undg Ventures
Joseph is a serial entrepreneur with a proven track record of innovation and success. Joseph Drups began experimenting with various business endeavors in college where he received his bachelors in Computer and Electrical Engineering from Baylor University. During this time, he taught himself website development, computer programming, and later marketing and business. He launched a number of websites that allowed him to develop experience with ecommerce, web development, programming, content marketing, and digital marketing. These projects include a Notecard Flash Web Application, a Self-Improvement and Rapid Learning blog, and other programming projects/websites.
Joseph utilized this knowledge in marketing and website development to build websites and sales funnels for small businesses during his time in college. He continued growing websites and helping small business owners with marketing while he served his time as an officer in the United States Air Force (see a detailed description above). Upon becoming proficient at digital marketing, operations/management, and website development, Joseph founded a consulting firm, Undg Ventures, in 2014, and left the USAF in order to pursue his interest in entrepreneurship and scaling businesses.
Undg Ventures, dba Underdog Marketing, specialized in digital marketing, ecommerce, and website development together with providing consulting on operations and management. Joseph had developed his knowledge of marketing, ecommerce, and website development from 9 years of launching his own projects and working with small businesses. He also had 5 years of experience and training in operations, leadership, and management from his time in the United States Air Force (not including 5 years of officer training, Field Training, and other internships in college).
Undg Ventures worked closely with small businesses to help them develop end-to-end sales funnels as well as helping them build out their management processes. During this time, Joseph's team also managed numerous ecommerce stores on behalf of clients and grew a working knowledge of different niche ecommerce strategies.
Merging and Acquisition Experience
After building a clientele in marketing and management consulting, Joseph reinvested his earnings and time in buying and merging ecommerce and niche manufacturing businesses to launch Drups Ventures. He began by purchasing a small websites that could benefit from his digital marketing experience. These acquisitions include a Complaint Website based on an Adsense revenue model that gets approximately 47,000 visitors a month as of May 2019, and a collection of Ecommerce Businesses that as of June 2022 have a combined 5180+ owned products across 11 different brands and are sold through 16 different online channels and owned websites.
He continued acquiring lifestyele brands in the ecommerce space including a Wedding Products Ecommerce Store, an EDM/POI ECommerce brand, a health and wellness lifestyle brand (Purple Canyon), a jewelry brand (REO/FJ4L), and a line of colored sand websites (UnitySand.net, SandsationalSparkle.com, ColoredSand.net).
Joseph expanded his ecommerce business with the purchase and brand launches of 6 additional brands and unique product lines. Altogether his businesses sell over 5180+ unique products, span a series of 11 owned brands, and is on track to make $7.5M+ in annual revenue.
Joseph has experience in every step of the value chain from product design and manufacturing to marketing. His innovative approach to entrepreneurship has earned him national recognition on the Inc 5000 list multiple times. You can reach Joseph's team by filling out the contact form on DrupsVentures.com or connecting on LinkedIn.